Rejuvenation Water
Food with functional claims
[Notification number] F22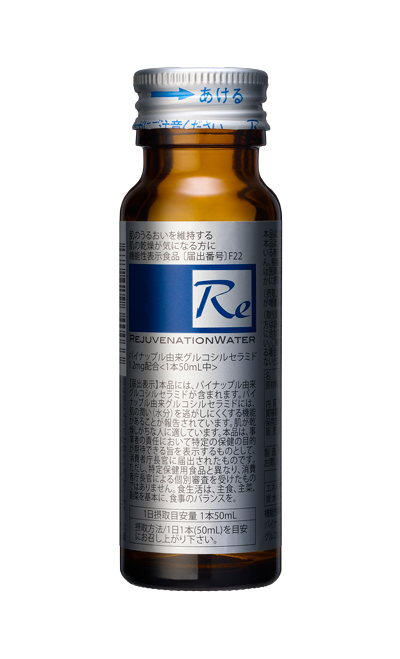 A special drink developed by the Rejuvenation System. It is a food with a functional claim that keeps the skin moisturized, and can supplement the lack of water from the inside.
Contents: 50ml x 10 bottles
Suggested Retail Price: 17,280 yen(tax included)
《 feature 》
---
◉Contains 1.2 mg of pineapple-derived glucosylceramide
This product contains pineapple-derived glucosylceramide. It has been reported that pineapple-derived glucosylceramide has a function of making it difficult for moisture to escape from the skin. Suitable for people who tend to have dry skin. This product has been notified to the Commissioner of the Consumer Affairs Agency as an indication that a specific insurance purpose can be expected at the responsibility of the business operator. However, unlike foods for specified insurance, they have not been individually examined by the Commissioner of the Consumer Affairs Agency. Balance your diet based on staple foods, main dishes, and side dishes. This product is not intended to diagnose, treat or prevent any disease. This product is not a food product developed for people suffering from illness, minors, pregnant women (including those planning to become pregnant) and lactating women. Talk to your doctor if you have a medical condition, or to your doctor or pharmacist if you are taking any medications. If you feel any change in your physical condition, stop taking it immediately and consult your doctor.